Discover the Ocelot 400: The Ultimate Oscillating Floor Cleaning Machine
Do you struggle to keep safety flooring clean? Does it gather dirt and seem impossible to get a perfect finish?
Don't worry, you are not alone. Dull or patchy safety flooring is very common. Although excellent at preventing slips in commercial environments and incredibly hard wearing when maintained correctly, safety flooring can be notoriously difficult to clean. Safety flooring's non-slip properties are created by the peaks and troughs in it's pitted surface. Dirt gets captured in the recesses making it incredibly difficult and labour intensive to clean.
If dirt is left to accumulate, not only is the floor unhygienic, but it loses it's non-slip qualities which is not only counterproductive but also hazardous.
Surely there's an easier way?
We are confident we've developed a fast, easy and effective way to deep clean safety flooring like never before.
Introducing the Ocelot by Victor
Introducing the Ocelot 400: The Ultimate Oscillating Floor Cleaning Machine
A high speed, battery powered, oscillating safety floor cleaning machine which effortlessly achieves outstanding results with reduced chemical.
So how does it work?
The Ocelot delivers an unrivalled deep cleaning of safety floors through high powered, crosswise oscillation. This deep penetrating oscillating action agitates and draws out ingrained dirt rather than skimming over the top.
The Ocelot's unique microfibre pad collects the dirt, ensuring perfect results without the need for anything more than water or a neutral cleaning solution. Floors are left perfectly clean, dry and safe to walk on instantly.
Apply a range of Floor Pads to this Oscillating Floor Cleaning Machine
Now let's look at some of the key benefits of the Ocelot
It's easy to use
The Ocelot not only delivers incredible cleaning performance but is easy to use with minimal training.
It offers edge to edge cleaning
Unlike circular rotary machines, The Ocelot's rectangular 400mm drive board gets right into the edges.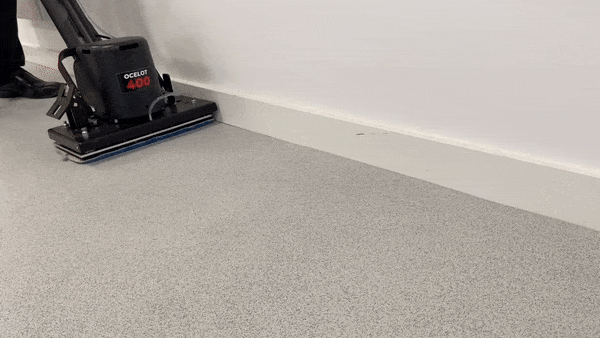 Oscillating Floor Cleaning Machine with Edge to Edge Cleaning
It reduces chemical use
The efficacy of the mechanical oscillating action, combined with the microfiber pads, minimises the need for detergents.
Oscillating Floor Cleaning Machine with Reduced Chemical Use
It's compact and lightweight
The Ocelot weighs just 16 kilograms and is incredibly slimline. This makes it easy to transport and use in confined spaces such as washrooms.
Lightweight Oscillating Floor Cleaning Machine
It features a swap out battery
The Ocelot features a quick release battery with a runtime of 90 minutes. Need to clean for longer? Simply swap in a 2nd battery to double the runtime.
Oscillating Floor Cleaning Machine with Swap Out Battery
The Ocelot has been built to last in the UK and is protected by a 3 year guarantee.
If you're looking for a powerful and effective way to clean safety flooring, look no further than the Ocelot 400 oscillating floor cleaning machine. With its high powered, crosswise oscillation and microfiber pads, it delivers outstanding cleaning performance while reducing chemical use. The Ocelot is also easy to use, lightweight, and designed to get into hard-to-reach areas. By using the Ocelot, you can ensure that your safety floors remain hygienic and slip-resistant, while saving time and effort. Don't settle for dull or patchy safety flooring any longer. Order the Ocelot 400 oscillating floor cleaning machine today and experience the difference for yourself.
Do you want your safety floors looking good as new?
Contact us today for more information at Sales@VictorFloorcare
Ready for cleaner floors right now? Order online today for next day delivery